EarlyON Centre & Outreach Programs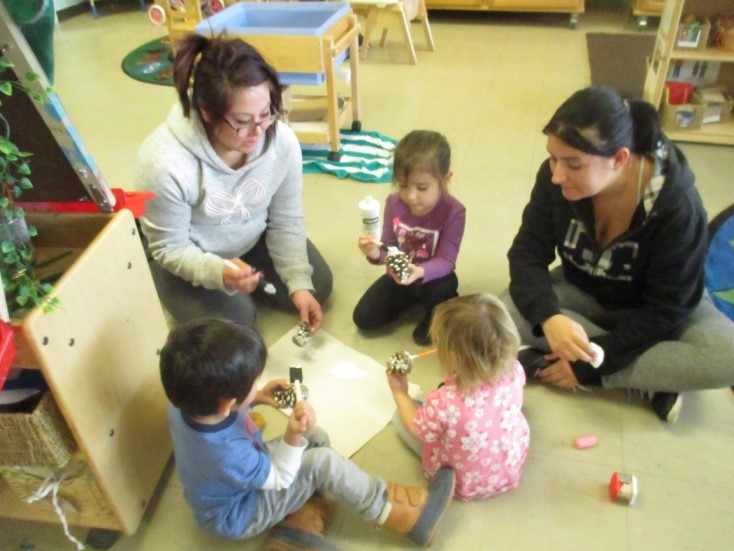 EARLYON CENTRE AND OUTREACH PROGRAM
EarlyON Centre and Outreach Program is a program for children up to the age of six and their parents or caregivers to take part in free interactive play and learning experiences that embed culture and traditional teachings for all families. We provide a range of parenting, health and educational resources for parents and caregivers.
Check It Out Drop Ins
Come and check out your child's development. Drop in with your child and speak to some of the following experts for free:
Registered Early Childhood Educators
Early Childhood Resource Teachers
Public Health Nurses
Speech and Language Pathologists
Mental Health Resource Workers (present at some locations)
Traditional Storytelling
Early Learning Facilitators for interactive traditional stories, songs and dances to promote literacy and numeracy in the early years.
Intergenerational Indigenous Cooking Class
Families will work together to prepare a meal each week. Topics include: Cooking on a budget and preparing traditional foods.
Public Health Nurses
A public health nurse is available to provide information and support on pregnancy, breastfeeding, parenting, family health, nutrition and introduction to community services.
Home Management Services
Every second Wednesday of the month at 10:45 a.m.
Parents are provided support on learning how to cope with and overcome challenges on both a family or individual basis. Parents are provided assistance on developing a plan for returning to work or school. Topics of interest may include; Basic Budgeting, Community Supports, Goal Setting, Problem Solving, Time Management, Self-Esteem, Personal Hygiene and Self Management, Stress Management and Self Esteem.
Men's Initiative
A program for dads, grandfathers, uncles, brothers and their children from 0-6 years old. Participants will receive traditional teachings on the roles and responsibilities of men as it relates to family and child development. Men and their children will participate in hands-on activities, knowledge sharing, and education to support the development of physical, mental, spiritual, and emotional aspects of healthy family relations.
Please refer to the calendar for the below programs that are available:
Traditional Parenting Group
Breastfeeding Support Project
Land Based Literacy Program
Cultural Outreach Program
Family Gathering Time
Native Art Experiences
Parent and Child Mother Goose
Early Literacy Program
Infant Massage
Play Based Learning
Parent Information Sessions
Location:
The Biindigen Hub
785 Britannia Ave, Hamilton Ontario
L8H 2B6